Using public transport and transfer services is better suited to solo travellers and couples who don't mind spending all day in the parks and like to travel light.
This page explains a little more about public transport in Orlando and how transfer services work. Learn how to cut the cost of getting around if you would prefer to get around Orlando without a car.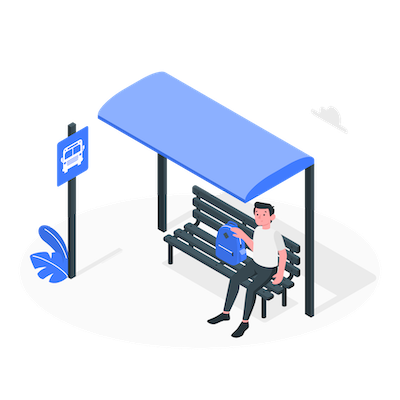 Getting Around Orlando Without A Car
Getting around without a car takes more planning and a keen eye for details to stop your budget running out of sight in a blaze of Mickey shaped ears.
Ask yourself 2 important questions:
How am I going to get to and from the airport to my hotel?
How do I want to get to the parks every day?
If the answer to the first question above is by either public transport or taxi make sure you fly into Orlando International Airport because its close to International Drive with acceptable public transport links. 
REMEMBER: Kissimmee and Disney World (from 2022) do not have a direct bus service to or from any airport!
If you want to use public transport your only real option for accommodation is to stay on International Drive.  If you want to visit Disney World, make sure your hotel offers free transport to Disney.
Cheap Orlando Airport Transfers
Make sure you fly into Orlando International which offers a public transport service. Other airports are not as lucky.

Taxi & Ride Shares
Orlando International Airport is well served with taxi and ride sharing services which have separate queues outside of the arrivals hall.  International Drive costs around $40 (20 minutes) one way, Kissimmee around $60 (35 minutes)


Train
Orlando International Airport to Miami in 3 hours and Disney Springs in 20 minutes will become a reality by 2024 when train operator Brightline opens up an extension of its southern Florida network to Tampa via Orlando International Airport.
Theme Park Shuttle Transfers Explained
There are plenty of off-site hotels that offer free transfers to either Disney World or Universal Orlando, sometimes both. They usually list this in their details.  If they don't specify which parks or specifically state all parks send them a quick email for confirmation before you make your booking.

Cheap
The transfer may be free or provided at very low cost but tipping is part of the fabric of society in the US. Remember drivers work very long unsociable hours for the minimum wage. Please don't forget to leave a small tip because your return driver may not necessarily be the same as the one that dropped you off earlier in the day.

Timely
The drop off services operate to very tight time schedules and will not wait if you are late. Always make sure to be at the arranged pick up point 10 minutes before your return shuttle. Space is first come first served. They have to abide by road laws and deal with any issues as they arise so please don't shout at them if they are late.

Drop Off & Pick Up Points
Each park chain has 1 drop off point.  Universal Orlando drops off at the taxi/coach pick up point.  Seaworld's drop off point is in the car park to the left of the entrance. Disney is always at the coach parking in near the monorail station at EPCOT.  Use free Disney transport to get around to other Disney World properties.
Other Transfer Services Explained
Busch Gardens and Legoland also operate their own shuttle service for people not wanting to drive but you have to reserve your space first!
Due to COVID neither Busch Gardens Express nor Legoland shuttle are operating currently. The I-RIDE trolley service is suspended until July 2021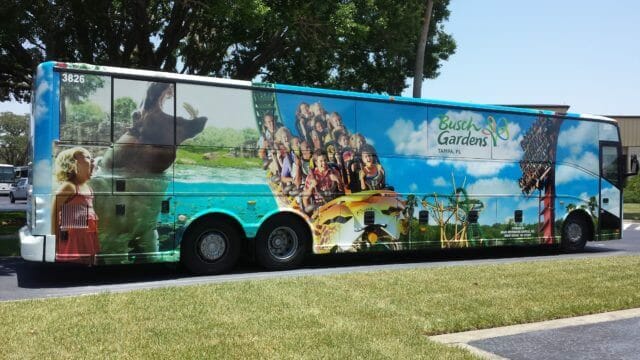 Busch Gardens Express
A daily shuttle for Busch Gardens operates from the Seaworld Car Park. Places are free for ticket holders but must be reserved first using the link below.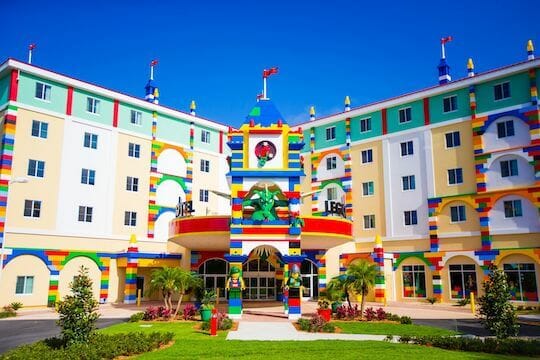 Legoland Shuttle
Legoland also operates a daily shuttle at a cost of $5 per person. The service uses the I-360 complex as its Orlando base.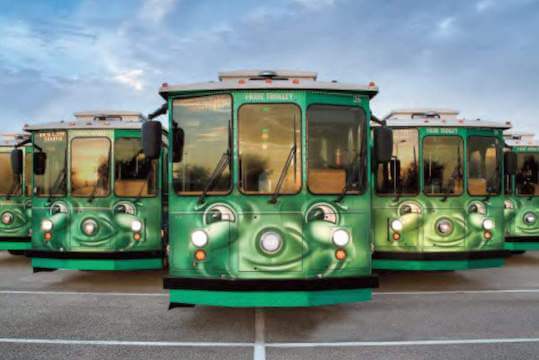 I-RIDE Trolley Service
Operating daily from 8am to 10pm, the I-RIDE Trolly is a cheap and efficient way to get around International Drive Attractions.
Helpful Links & Downloads
If you don't want to drive it is best to stay around International Drive and use a combination of taxis and the low cost I-RIDE trolley service to get around. Make sure your hotel offers free transfers to Disney World to avoid a $100+ return fee. Use the free Disney transport to get around Disney.

I-RIDE Trolley Marker Map
The I-RIDE team have put together a very handy PDF that you can download or save to your mobile phone so you won't get lost exploring everything International Drive has to offer.  DATA WARNING: This is a 10MB file so you may want to wait for a wifi connection.

Disney Transport Map
The very talented Arthur De Wolf has designed 2 fantastic maps of the entire Disney World transport network. You can view them online or download a low-resolution copy for free or purchase a high-resolution version through his website.

Public Transport Between Disney And International Drive
There is currently no one public bus service that operates through both International Drive and Disney World.  Disney is served mainly by Lynx route 50 which skirts the southern end of International Drive up to Seaworld before turning off and heading north up I-4.  Lynx Route 38 takes over or you can use the I-Ride Trolley service to get further up International Drive. In short, it is doable just not very practical at the moment.
Plan your perfect Orlando holiday
My 50+ page planning guide is packed full of information, tips and tools to help first time visitors to Orlando plan their perfect holiday.