Complete Disney Genie & Lightning Lane Guide

Disney Genie is Disney's new free planning service. There is a lot that has changed so whether this is your first time, or you have used Fastpass+ before, there is plenty to learn here in my complete Disney Genie & Lightning Lane guide!
In a nutshell, Disney Genie will recommend attractions based on your preferences, location and crowds the day you are in the park. It aims to maximise the quality time you have in Disney World and keep queueing to a minimum. What it recommends is based on a mix of your preferences and actual operational data of how the park is working on the day of your visit.
It's quite a departure from the previously free service, Fastpass+, and will likely change the way you plan your Disney World trips forever.  
FYI: this guide will be constantly updated as the system becomes operational and there is some real world data to go on so keep checking back, you never know what you will learn!
Attraction recommendations
Location based information
Uses real time industrial engineering data regarding behind the scenes park operations
Recommended itineraries based on preferences
Completely customisable and updated throughout the day
Giving you up-to-date information is very important: The content on this page was last updated 8th October 2021 prior to the go live date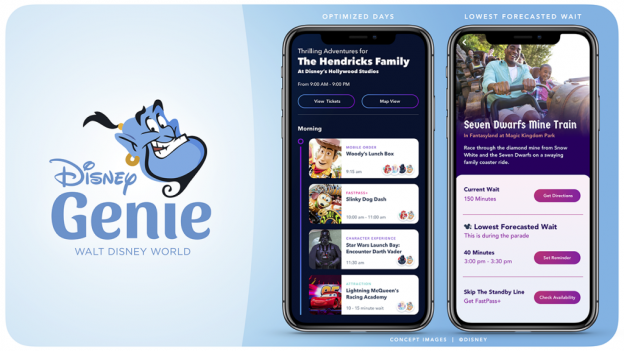 What sets Disney Genie apart?
In a word, personalisation. Disney crunch a ton of data in the background to give everyone a personalised itinerary. Itineraries can change throughout the day depending on a huge number of factors including crowd levels and ride breakdowns to name a few. Every itinerary is built to minimise queueing time and maximise the quality of your day.
The 3 Tiers Of Disney Genie
Understanding the 3 tiers of Disney Genie will help you decide if it is worth paying for the premium levels. Level 1 is free for everyone while level 2, Genie+, has a daily charge per ticket holder. The top 2 or 3 most popular attractions at each park will be split off into level 3, Lightning Lane. These specific attractions will be excluded from Genie+ and will incur a separate one-time fee for access to their Lighting Lane queues.
Disney Genie
Free service for all ticket holders
Personalised itineraries & tip board
Restaurant wait lists, check-in & reservations
Mobile food ordering
Attraction wait times
Virtual queue at select attractions
Disney Genie+
Single Daily charge per ticket holder
Access to most but not all Lightning Lane queues resort-wide (subject to availability)
Not instant access but, potentially, much less queueing than standard lines
Disney Photopass AR Lenses to enhance your memories
Unique audio experiences to add to your day
Lightning Lane
One-time access to a specific attraction
Price dependant on demand and time of visit
Almost instant access
Includes attractions not part of Disney Genie+
How Disney Genie+ & Lightning Lane Work
On the day booking through app from 7am
Book next attraction as soon as you are in the queue
Available throughout all Disney's main parks
Not instant access but a quicker queue
No early access or discount for on-resort guests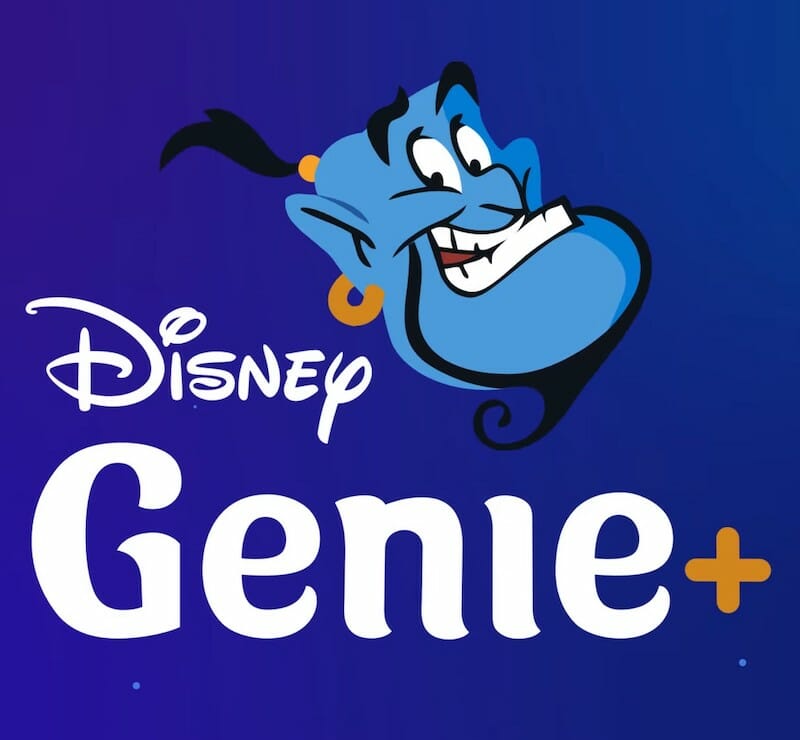 On the day booking through app from park opening
2 attraction limit per ticket holder per day
Almost instant one time attraction access
Available on a select list of attractions
Guests staying in Disney owned hotels can book from 7am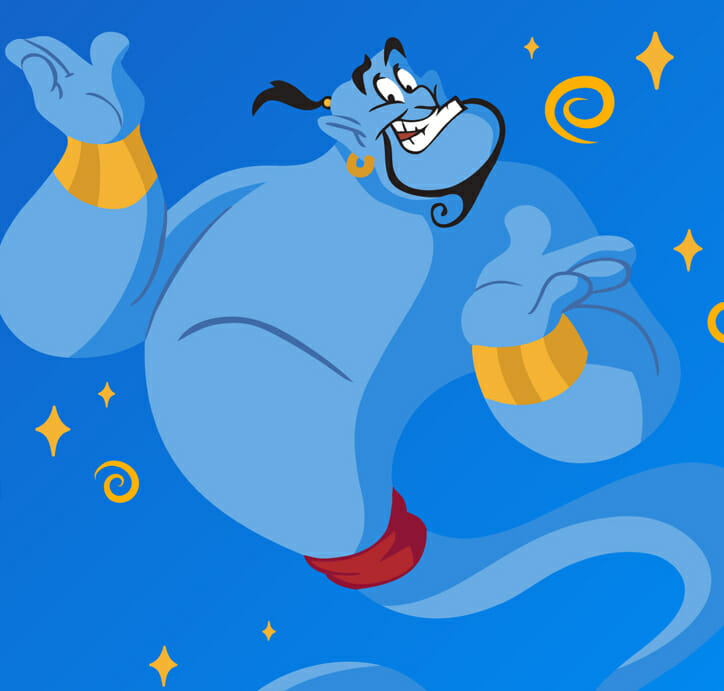 Disney Genie+ Attractions
Below is the confirmed list of attractions you can book using Disney Genie+
Remember you can only book one attraction at a time from 7am on the day of your visit
Magic Kingdom
Attractions
Big Thunder Mountain Railroad

Buzz Lightyear Spaceranger Spin

Dumbo the Flying Elephant

Haunted Mansion

It's A Small World

Jungle Cruise

Mad Tea Party

Magic Carpets Of Aladdin

Mickey's PhilharMagic

Monsters Inc. Laugh Floor

Peter Pan's Flight

Pirates Of The Caribbean

Splash Mountain

The Barnstormer

The Many Adventures Of Winnie The Pooh

Tomorrowland Speedway

Under The Sea – Journey Of The Little Mermaid
Disney & Pixar Short Film Festival

Journey Into Imagination with Figment

Living With The Land

Mission: SPACE

Sourin' Around The World

Spaceship Earth

Test Track

The Seas With Nemo And Friends

Turtle Talk With Crush
Hollywood Studios
Attractions
Alien Swirling Saucers

Beauty and the Beast – Live On Stage

Disney Junior Play & Dance!

Frozen Sing-along Celebration

Indiana Jones Epic Stunt Spectacular

Millennium Falcon Smugglers Run

Muppet*Vision 3D

Rock N Roller Coaster

Slinky Dog Dash

Star Tours

Twilight Zone Tower Of Terror

Toy Story Mania!
Animal Kingdom
Attractions
DINOSAUR

Festival Of The Lion King

Feathered Friends In Flight

Finding Nemo – The Musical

It's Tough To Be A Bug

Kali River Rapids

Kilimanjaro Safaris

Na'vi River Journey

The Animation Experience
Individual Lightning Lane Attractions
If you want faster access to these rides you will have to pay separately on a ride by ride basis to access Lightning Lane queues
You will be able to book your first reservation from park opening (or 7am if staying on resort). Maximum of 2 per person per day 
Magic Kingdom
Attractions
Seven Dwarfs Mine Train

Space Mountain
Remy's Ratatouille Adventure

Frozen Ever After
Hollywood Studios
Attractions
Mickey & Minnie's Runaway Railway

Star Wars: Rise Of The Resistance
Animal Kingdom
Attractions
Avatar: Flight Of Passage

Expedition Everest
Most popular Genie+ Attractions
Below are the three most popular attractions by park and a Genie+ reservation will save you the most time in line. Bear in mind this isn't taking into account other time-saving techniques such as the 'rope drop technique' that may alter your decision. Once Genie+ is up and running this section will be updated to reflect actual data not historical references based on a system that has now been retired.
Magic Kingdom
Top 3 Attractions
Big Thunder Mountain Railroad

Peter Pan's Flight

Splash Mountain
Mission: SPACE

Sourin'

Test Track
Hollywood Studios
Top 3 Attractions
Millennium Falcon Smugglers Run

Toy Story Mania!

Mickey & Minnie's Runaway Railway
Animal Kingdom
Top 3 Attractions
DINOSAUR

Kali River Rapids

Kilimanjaro Safaris
These are a general list in alphabetical order, not based on any particular priority. If you have young children unable to ride the bigger thrill rides, meet and greet Genie+ queues such as Princess Fairy Tale Hall and Enchanted Tales With Belle could be a better fit than the 2 mountains in Magic Kingdom for example.
Don't forget to check minimum height requirements for attractions before you make your reservation!
Genie+ Restrictions & Timings
There are some restrictions on the service that you need to be aware of. Disney likely does this to make the system as fair as possible to everyone. Unfortunately, this also makes the system overly complicated to get your head around the first time.
First Booking
Make your first booking from 7am in the My Disney Experience App. You can add Genie+ to your park ticket from midnight the day of your visit
Don't Trick The System
If you don't want to ride your first attraction you must wait until the reservation window has closed to book your second attraction if within 2 hours of park opening
Within 2 Hours Of Park Opening
Your second attraction can be reserved after you exit your first attraction reservation or after 2 hours of the park opening, which ever is sooner
Fair For All
If your first reservation is after the first 2 hours of the park opening you are still allowed to make a second reservation after the 2-hour window closes even if you haven't ridden your first attraction
Frequently Asked Questions
You are bound to have questions about this brand new service. Answers to some of the most popular questions are listed below
It's difficult to tell because the system is yet to launch.  In a way, yes it will for first time visitors. 
Fastpass+ allowed 3 attractions to be booked 6 months from the visit. all fine if you know what you are doing and what attractions get the busiest but if this is your first time you likely won't know that information.
Disney Genie+ reservations are only on the day (from 7am) and only for one attraction at a time. To get a reservation for the most popular Disney+ attractions you need to be on the app from 7am to try and get a spot.
Lightning Lane specific reservations will have much less availability and on-resort hotel guests can get first availability from 7am. Standard ticket holders will have to wait until the park opens to book their first Lightning Lane attraction. This will make Disney's most popular attractions just as difficult to get with the new service compared to the old Fastpass+.  Remember though that Lightning Lane specific attractions will be chargeable so there may be a little less demand that there was historically.
Thankfully, no!
Disney Genie is the name Disney is giving to the technology behind the service.
Disney Genie functionality is built into the My Disney Experience app for Walt Disney World (Disneyland in California has it's own app).
There are fewer incentives for on-resort guests with this new system compared to Fastpass+.
Disney's on-resort guests will not get any preference nor discounts when it comes to booking Genie+ Attractions.
They will have an early booking window for Lightning Lane attractions, but there is no discounted price for staying on-resort.
Disney may decide to tweak the system once it launches and they get some real-world data about how it is being used. If they do. Iwill update this page accordingly.
It's unlikely that UK bought tickets will have Disney Genie+ included as standard like Fastpass+ was included.
Disney could offer periodical incentives with discounted rates if sales start to fall or as an incentive for people to book but that is entirely at their discretion.
When purchasing either a ticket package or holiday package directly with Disney Genie+ will be added on for every day of your ticket package.
You can, however, specify select dates when adding Genie+ onto an existing booking.
Short answer, no. Genie+ can be added to your standard tickets on a day by day basis. If you go for 14 days but only expect to need Genie+ for 7 of those days you should be able to book the days you want.
Because Genie+ is dependant on limited availability you may have to decide before you leave the days you would like to specify that you want it.
The actual mechanics of how this will work are still being worked on by Disney and I will update this question when Disney has clarified the situation
No but all Genie+ booking are subject to availability.
You can book your first reservation from 7am on the day of your visit. Your second booking can only be after 120 minutes of the park opening, even if you first reservation is within 120 minutes of the park opening.
After the initial 2 hour wait, once you are in the queue for your chosen attraction you are free to choose another experience. This is, of course,  subject to availability on the day.
You must always at least be in the queue for your previous experience before you can book the next, or wait until 2 hours have elapsed since the park opened, whichever comes sooner.
The timings of your reservations are crucial to getting the most out of Genie+ but it is also dependant on other factors. The number of Genie+ positions is fixed per hour and per attraction but availability will depend on attraction popularity and crowd levels on the day.
For this service to be worthwhile you need to book your reservations earlier in the day rather than later.
Currently no, Disney Genie and Lightning Lane is for Disney World's 4 main parks only.
Practically it won't work in its current form because it will require you to carry your phone around the water park.
Disney may decide to opt for a service like Universal's Volcano Bay's Tapu Tapu wearable device but there has been no public announcement yet.
For Disney Genie+ no because you can make reservations from 7am. You will, however, need to have a valid ticket and park pass reservation to be able to use the service.
For Lightning Lane specific reservations you will need to be in the park to make them. The only exception is if you are staying on-resort when you can book your first attraction at 7am before the parks open for the day.
Fastpass+ was a great system but the technology was outdated and it was to skewed in favour of people that knew what they were doing. Fastpass+ was also one of the last free systems offered by Disney.  Disneyland in California has been using the chargeable Maxpass system for years which worked a lot like Disney Genie+, Hong Kong Disney has its own chargeable system. Disneyland Paris has just moved to a chargeable system.
The public face of Disney Genie, Genie+ and Lightning Lane is a system that increases everyone's fun, hence customer satisfaction scores. I don't doubt it will do that, particularly for first time visitors. 
Make no mistake though, Disney Genie is a very slick shop front for Disney to increase its bottom line. Coronavirus may have accelerated the timeline a little but this new system was announced before the pandemic hit. 
Disney has sunk many thousands of dollars and hundreds of hours of development time into getting this service up and running. It had been in development for over 2 years before launching so expectations are high that Disney will see a return on its sizeable investment.