Welcome to another issue of Biteseize Orlando looking at all the goings on in and around the theme parks of Orlando. September has been a busy month for news in Disney thanks to their bi-annual fan gathering, D23, in Anaheim spilling the beans on some up-and-coming attractions. Let's dive in and find out what's been going on in Bitesize Orlando September 2022
Bitesize Orlando September 2022 News Contents
Universal Orlando News
Busch Gardens News
Orlando Area News
Walt Disney World News
The American Adventure Closed For Refurbishment
Starting September 19th The American Adventure attraction in EPCOT has been closed for refurbishment. Disney hasn't confirmed a reopening date.
The American Adventure features 35 animatronics and a 72-foot screen depicting the history of America in a nearly 30-minute presentation.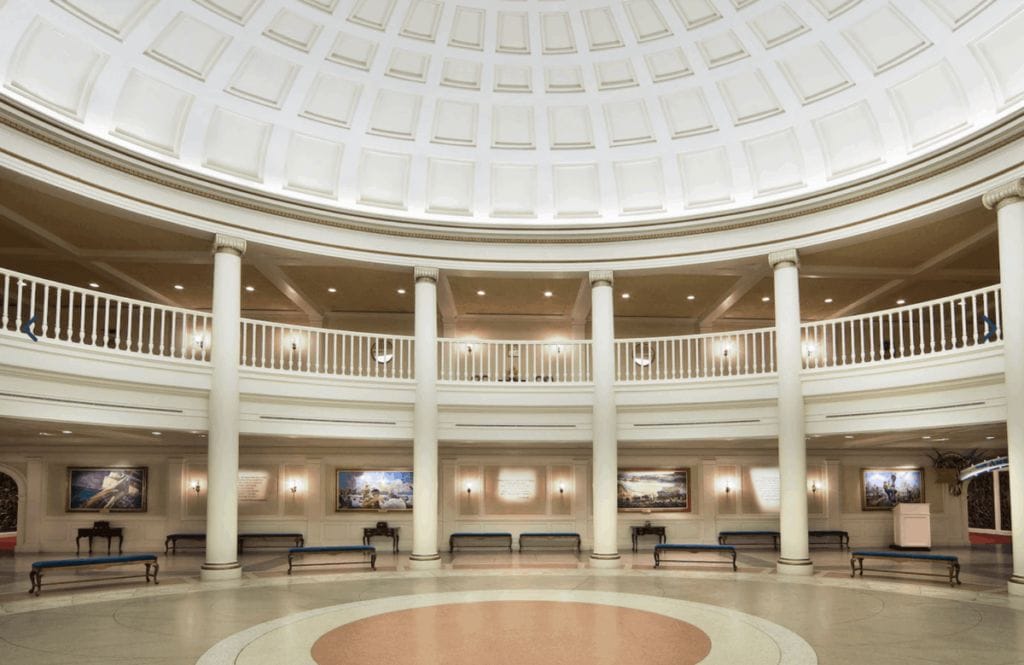 More popular with our American cousins than British visitors, The American Adventure is a wonderful, if drawn-out history lesson. The seats and air conditioning are a welcome respite from the humidity outside. I will let you know when it returns to operation in a future update.
Disney Shares First Look At Splash Mountain Retheme
One of the most sought-after news bites from D23 was a scale model of how Splash Mountain will look in late 2024 when its retheme to "Tiana's Bayou Adventure" is complete.
Disney Imagineer Scott Gustin tweeted some up-close images on Twitter of the exterior model on show ahead of the D23 opening. I have embedded the tweet below.
The exterior remains largely unchanged apart from the addition of a large water tower with "Tiana's Foods" on the face. Despite the huge interest in this retheme, Disney is currently staying tight-lipped about the interior aside from the fact that the attraction is a love letter to New Orleans as a whole and not just to "The Princess And The Frog" (2009) movie that the new attraction will be based on.
Journey Of Water Sculpture & Opening Date Revealed
Over in EPCOT, another attraction that has been getting a lot of attention is the Moana-inspired "Journey Of Water" attraction that is currently under construction in the former Future World Area, now called World Celebration.
Imagineer Ashley Carter took to Twitter to share the first look at a scale model of Te Feti, a 16-foot tall sculpture that will be present in "Journey Of Water". The scale model shows the attention to detail that is being brought into the attraction.
Te Fiti represent life and the balance of nature. She will be seen protecting water as it voyages around the water cycle.

Disney statement on the significance of Te Feti in Journey Of Water
At D23 Disney also shared that Journey Of Water Inspired by "Moana" is slated to open at EPCOT in late 2023.
TRON Lightcycle Run To Open Spring 2023
Disney parks chairman Josh D'Amaro used D23 to share that, finally, TRON: Lightcycle Run will open in the Magic Kingdom sometime in Spring 2023.
Originally announced in 2017 to much fanfare, TRON Lightcycle Run is a copy of TRON: Lightcycle Power Run that has been open in Shanghai Disneyland since 2016. It was originally scheduled to debut a the start of Disney World's 50th-anniversary celebrations in 2021 but COVID had other ideas.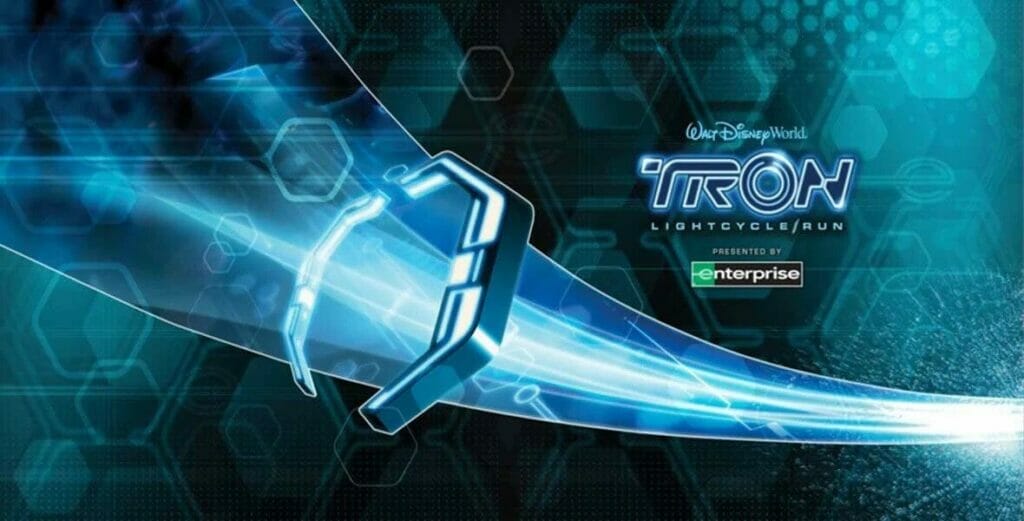 Construction halted and then re-started at a snail's pace due to budget constraints but construction has been ramping up recently and the TRON cars can now be seen making test runs around the outside portion of the track under the striking wave-like canopy along with internal special effects. Construction is now largely done and fine-tuning of the experience is well underway.
It's been a long time coming but one of Shanghai Disneyland's most popular attractions is almost ready to welcome its first guests.
New EPCOT Fireworks Spectacular Coming In 2023
HarmonioUS hasn't been as well received as its predecessor, Illuminations: Reflections Of Earth. HarmonioUS isn't a bad show but Illuminations has held so many memories for people that it was always going to be a hard show to replace. If you haven't seen a Disney fireworks show and you are visiting EPCOT during the 50th Anniversary celebration you are still going to love HarmonioUS.
As it turns out, HarmonioUS will only be with us for the 50th anniversary of Walt Disney World. Although no further details have been released, Disney has shared that a new fireworks show is already in the works for EPCOT when Disney World's Anniversary comes to an end and the 100th Anniversary of Disney as a whole starts later in 2023.
In similar news, Magic Kingdom's new fireworks show, Enchantment, will be replaced by an updated version of its predecessor, making many fans' wishes come true in the process.
Animal Kingdom's Kite Tails Show Permanently Closed
Animal Kingdom's Kite Tails show that was held multiple times daily in the Discovery River Amphitheatre is now permanently closed.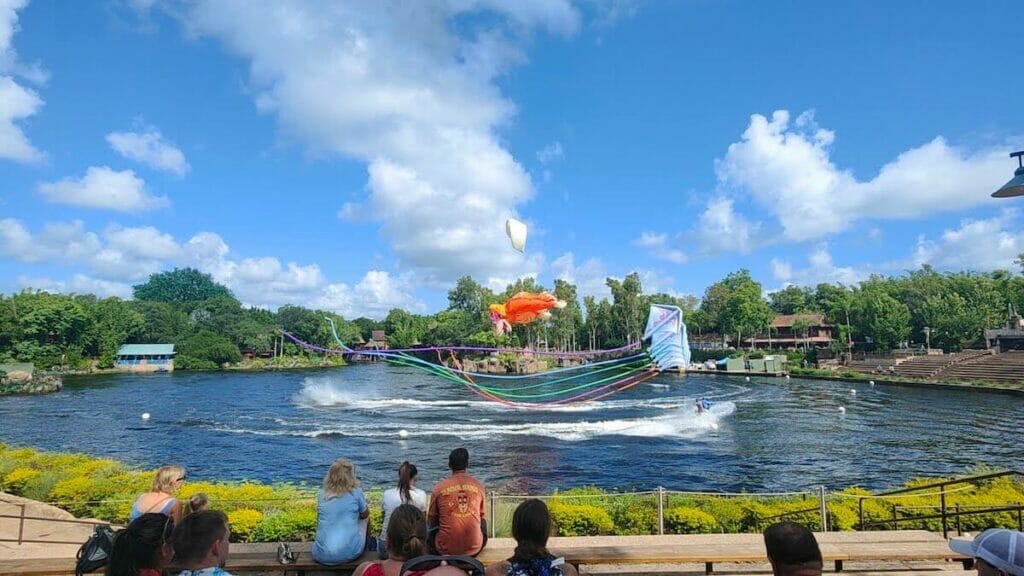 The show originally opened on the 1st of October 2021 to coincide with Disney World's 50th Anniversary celebrations. The 20-minute show was reduced to a walk-by experience in May 2022 following lacklustre reviews. Its final show was to be on 30th September but with All Disney's parks Closed until then the decision was made to close the show a couple of days early.
Park Pass Reservations System Changes
Disney has made some minor updates to improve the usability of the much-maligned Park Pass Reservation system.
The two separate systems of Park Pass have been rolled into one for every guest. Disney shared a screenshot of the updated ticket selection screen depending on if you are staying onsite or not.

You can now amend your park pass reservation without first having to cancel your existing booking and then re-book.
Park Pass reservations are now associated with the ticket, not a person. This means that if you hold 2 types of tickets such as an annual pass in addition to a standard ticket you can make a separate reservation for each.
Previously limited to 12, guests can now make park pass reservations on behalf of up to 30 other people.
These changes are small but anything that makes Park Pass easier to use is welcome, especially the ability to amend an existing reservation which should have been built in from the start.
New Lands Coming To Magic Kingdom & Animal Kingdom!
In a slightly unusual move, perhaps brought on by all the work Universal is putting into Epic Universe, Disney Parks Chairman Josh D'Amaro shared a couple of 'blue sky" concepts that are currently being worked on for Magic Kingdom and Animal Kingdom.
The term "Blue Sky" means Imagineers are currently thinking outside the box without budgetary constraints. It does show us that Disney won't be taking the opening of Universal's 4th gate in 2025 lying down.
A new park is off the cards but adding, or repurposing, new lands are certainly more realistic. Whether we will see some or all of these ideas come to life before Epic Universe opens is uncertain. It's encouraging that ideas are currently being worked through.
To be clear, the two ideas below are still in a "blue sky" phase and, as such, are most likely going to change quite considerably before anything comes to the parks.
Magic Kingdom's Largest Ever Expansion
Taking over the Rivers Of America and Tom Sawyer Island, Magic Kingdom's largest ever expansion could see the world of Encanto, Coco and Disney Villains brought to thrilling life.
Concept art shown for "Beyond Big Thunder Mountain" is deliberately vague in this "blue sky" phase but we could ride on an alebrije from "Coco", and enter the casita from Encanto. At the back of the land could we see a Disney Villians area finally come to life in a Disney park? Only time will tell.
Dinoland USA To Be Replaced?
Over in Animal Kingdom, another "blue sky" idea is being investigated that could replace the entire Dinoland USA area, home of the popular "DINOSAUR" attraction, children's play area and Dino-Rama area.
Exact details weren't shared but concept art points to a possible Zootopia and/or a Moana-themed land replacing all of the Dinoland USA areas.
Dinoland USA, and in particular Chester & Hester's Dino-Rama, is perhaps one of the most divisive lands in all of Disney's parks worldwide. Many people will look forward to a replacement but we could be in for quite a long wait.
Universal Orlando News September 2022
"¡Vamos! – Báilalo" Strret Show Debuts at Universal Studios
A new 12-minute high-energy street show called "¡Vamos! – Báilalo" has debuted.
Described as, "a high-energy Latin dance experience with a classic look and modern musical flair", "¡Vamos! – Báilalo" has debuted just in time for Hispanic Heritage Month in Florida.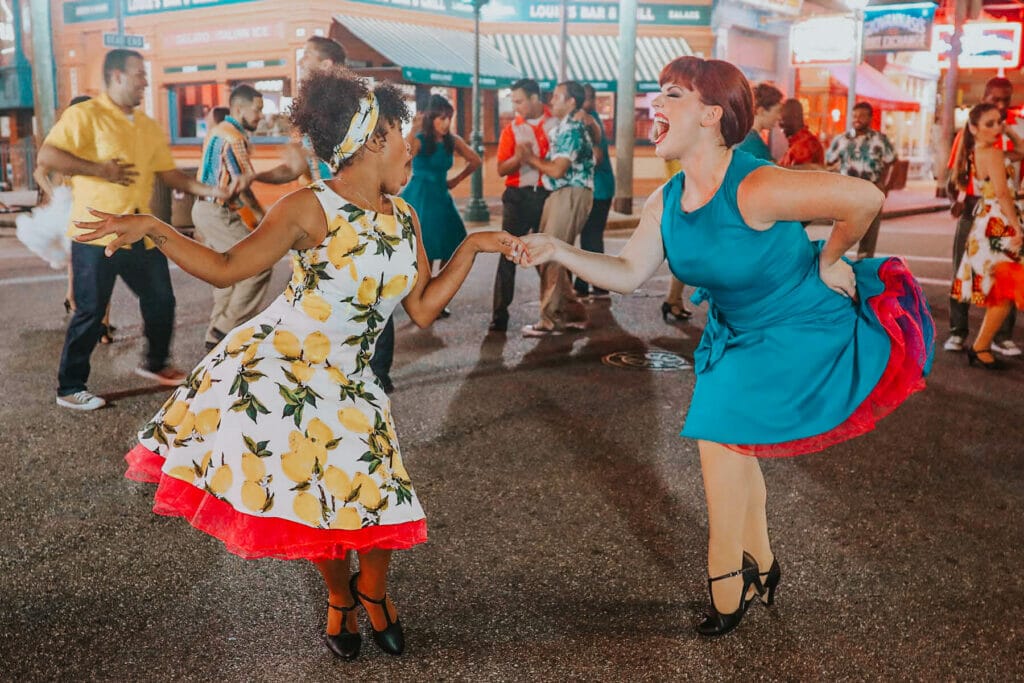 If you want to let loose, get loud and dance along to the irresistible beats of the music, you can catch "¡Vamos! – Báilalo" in the New York area of the park at the following times currently:
09:00
10:00
11:00
12:00
13:30
14:30
Revenge Of The Mummy Back Open After Long Refurb
After a multi-month long refurbsihment lasting most of 2022, the popular "Revenge Of The Mummy" roller coaster is back open.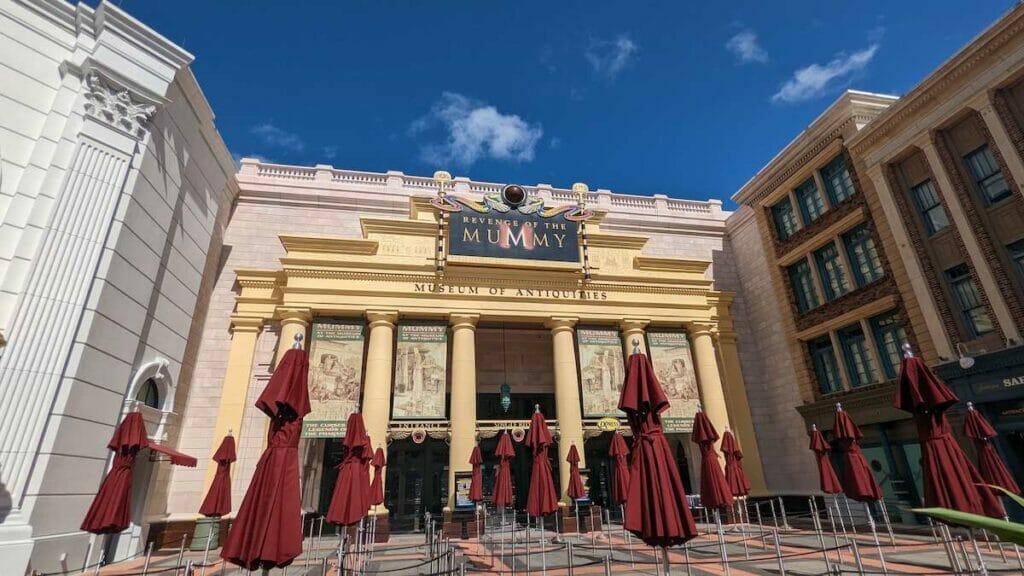 Along with ride system upgrades many of the effects have been cleaned and updated. Outside, the queue line has received multiple umbrellas providing shade.
Rock The Universe 2023 Dates
Rock The Universe, Florida's biggest Christian rock music festival will return to Universal Orlando resort in January 2023. The event will run from Friday 27th January through to Sunday 29th January.
Tickets for the event include access to all attractions, meet and greet opportunities with the performers in a dedicated Fanzone and a special Sunday morning service. The full lineup for 2023 is as follows:
Rock The Universe Performers Friday 27th January
Music Plaza Stage – Skillet and Northern Irish folk-rock worship band Rend Collective.
Hollywood Stage – Bethel Music, Evan Craft, and Katy Nichole.
Rock The Universe Performers Saturday 28th January
Music Plaza Stage – Zach Williams, Matthew West, and Anne Wilson.
Hollywood Stage – Dante Bowe, We Are Messengers and Cain.
For more information and to book tickets check out the Rock The Universe website.
Busch Gardens Tampa News September 2022
Bush Gardens Teases New Attraction
Busch Gardens in Tampa has teased its new attraction for 2023 on its official Twitter account.
Hot on the rails of Iron Gwazi, a record-breaking hybrid coaster that opened to critical acclaim earlier this year, Bush Gardens' 2023 attraction is a giant swing, much like Rush at Thorpe Park in Surrey.
No timeline has been shared about when it will open. Construction is currently underway on land formerly taken up by the Rhino Rally attraction.
Orlando Area News September 2022
ICON Park To Open New FEC
ICON Park on International Drive is opening a new Family Entertainment Center in conjunction with the Family Entertainment Group.
The 8,000-square-foot facility, called Max Action Arena will feature virtual reality (VR), axe throwing, an intergalactic-themed escape room and adventure rooms in a variety of settings.
The adventure rooms will challenge guests to solve crimes, decode puzzles in a medieval world, experience alien abductions and survive a creepy and cursed room.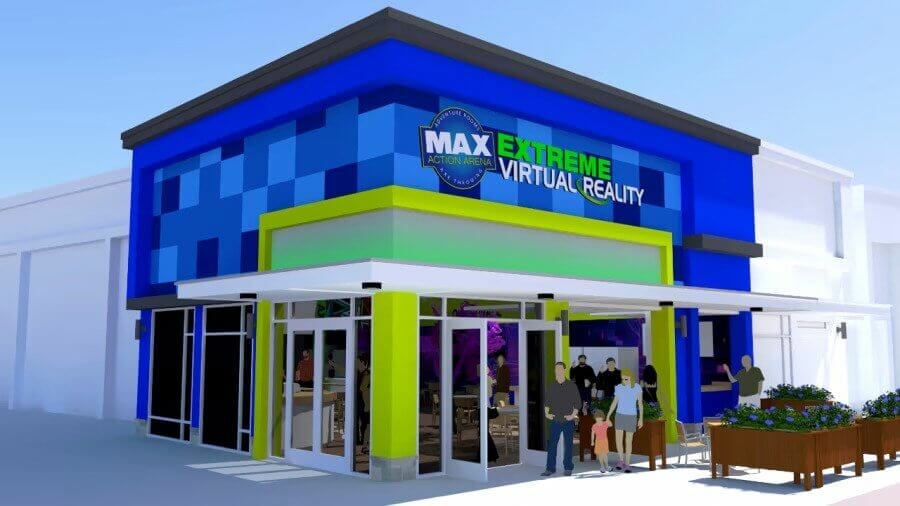 The escape room, 'Escape from Planet Obscura', takes guests to a distant alien planet where they attempt to repair their damaged spacecraft and avoid being stranded in space forever.
"With its cutting-edge VR technology and collaborative experiences, Max Action Arena is the perfect place for friends and family to compete and explore together."

Ray Smith, vice president of business development at Family Entertainment Group
Gators, Ghosts & Goblins Returns For 2023 At Gatorland
If you want to experience some family-friendly Halloween fun in Orlando but your budget doesn't stretch to Disney's now sold-out Not So Scary Halloween Party, Gatorland has you covered.
The daytime family-friendly event features themed haunt zones, interactive characters, live polka music, animal meet-and-greets, children's Halloween Costume Parade with treat bags and the return of Swamp Ghost's Monster Museum.
You can even wear your own costume if you so wish as long as it isn't scary, bloody or violent. Even better, Gators, Ghosts & Goblins are included with standard park admission!
Gators, Ghosts And Goblins run on weekends from the 15th of October. You can get tickets direct from Gatorland or a number of UK ticket resellers that I list on my theme park tickets page.
That's it for this month's bumper new feed. If you are out for Halloween I hope you have a great time. I'll see you in November for a peek at the parks in their Christmas overlays.