The frights are almost over for another year. This Halloween was the busiest yet in Orlando's parks. For the first time ever Disney World's Not So Scary Halloween Party was completely sold out despite eyewatering prices for tickets. Universal, Seaworld and Busch Gardens also saw record numbers of people enjoying the frights.
If you are in the parks over the next few weeks you will see the transition to the Christmas overlay which should be complete by around mid-November. If you always wanted to visit Orlando for Christmas but didn't want the crowds, mid to late November is a great time to go.
Website Updates September 2022
I have been busy behind the scenes this past month and published 3 new guides to help you with your planning. The first 2 deal with premium queue options for Seaworld, Busch Gardens and Legoland. These guides compliment my guides to Disney World's Genie+ and Universal Orlando's Express Pass which have been up for a while.
I also have a brand new guide to Disney Springs, Disney World's shopping and entertainment district. You can find the link on the Disney World Overview page of the Explore section. If you want to check them out now the links are below.
Bitesize Orlando October 2022 Contents
Disney World News
Orlando Area News
Universal Orlando News
Seaworld Orlando News
Busch Gardens News
Disney World News October 2022
Disney Drastically Increases Genie+ Prices Without Warning
Without warning, Disney issued a statement overnight on October 10th stating that the price for Genie+ would immediately increase, depending on demand, to $22 plus tax per person. It may not seem much but the almost 50% hike in price soon adds up for families who are already feeling the cost of living price rises.
Genie+ is one of the most divisive products introduced by Disney, not just in Disney World but also in Disneyland with variations in other Disney parks worldwide. Complaints about the service are high but sales are even higher. Clearly, Disney sees that there is even more money to be made from parkgoers by introducing the sudden and steep price increase with no warning.
Will sales of Genie+ suffer as a result? Unlikely. Genie+ is more popular than ever. Some people find value in the product the majority of visitors feel pressured into using it to make the most out of their time at Disney.
Disney has also shared that the cost of the product will be reviewed after October and moving forward so expect more sudden price rises in the not-too-distant future. The question you will have to answer on your trip is, will it provide value for you bearing in mind the ever-escalating cost?
The American Adventure Reopening Date
The American Adventure is set to reopen in mid-December following its closure for maintenance on 19th September.
The topic of US history may not appeal to UK parkgoers as much as our American cousins but the 30-minute animatronic-led show is quite the feat of engineering. Even if that isn't your interest, the seats are really comfy and the sit-down and air conditioning is a welcome relief from the heat outside even in cooler months.
The show is set to return to regular operation on 17th December.
Fantasmic Finally Gets Reopening Date
It's been closed since the start of COVID, all the way back in 2020 but Hollywood Studios is finally getting its proper nighttime spectacular back.
Fans of the show have been clamouring for news on the show's return which has finally been set for 3rd November.
That's not all the good news for fans of the show. One of the reasons for the show being off the schedule for so long. Disney has been plusing the show (Disney speak for making it better), adding in a new scene with elements to make it bigger and better than it was pre-pandemic.
According to Disney, the new heroes sequence will feature a high-energy Aladdin chase with stunts never before performed on a Fantasmic stage. There is also a powerful scene featuring Elsa singing "Show Yourself" plus stirring moments with Mulan, Pocahontas and Moana.
The new scenes push the running time of the new Fantasmic show to 29 minutes, up from 26 minutes pre-pandemic.
Has the wait been worth it? Yan can find out from the 3rd of November!
Character Meet & Greets Closed In Magic Kingdom
Labour shortages continue in Florida. You will notice many restaurants on International Drive are either closed or severely restricted in the number of people they are able to sit.
The labour situation has now hit Disney's popular character meet-and-greets in most of Disney's parks. Several popular character meets are temporarily suspended while Disney struggles with a severely reduced pool of entertainment performers, many of whom are already working 6-day weeks.
Confirmed suspensions so far are Pete's Silly Sideshow in Storybook Circus, Meet Minnie Mouse At Town Square Theatre, Meet Minnie At EPCOT International Gateway plus Donald, Daisy & Max Meet At Hollywood Studios.
While labour shortages persist, Disney will be focusing resources on popular (not to mention profitable) character dining.
Blizzard Beach Reopening In November
After being shut most of the year Disney has announced that Blizzard Beach will be reopening on the 13th of November with added Frozen theming in Tikes Peak, an area for small children.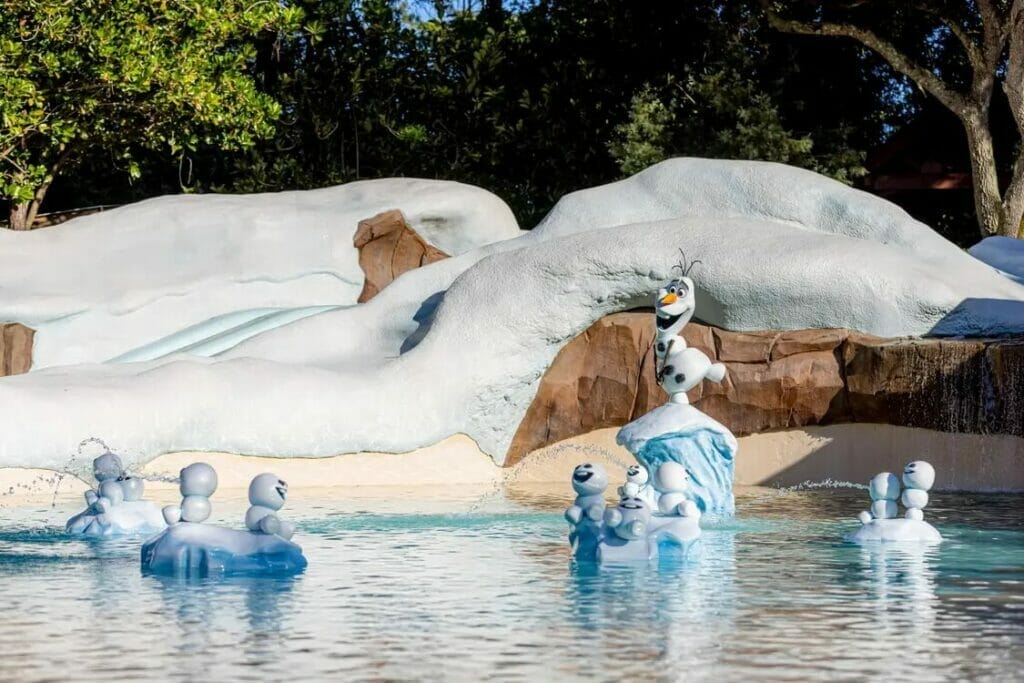 Until December 31st the park will also have festive offerings including holiday-themed treats, snowfall, festive inner tubes for some slides plus a chance to meet a tropical-dressed Santa.
Once Blizzard Beach opens Typhoon Lagoon will be closing for its annual winter maintenance so there will still only be one water park operating over winter, as is usual at Disney World.
Universal Orlando News October 2022
Add On Holiday Experiences This Christmas
Universal has "amped up the awesome" this Christmas with add-on holiday experiences available on select dates from 12th November through to New Years' Day.
As well as festive dining, decor and entertainment in all 8 of Universal Orlando's onsite hotels there are 2 upcharge experiences available to book.
The Grinch & Friends Character Breakfast
Start your day with a Grinchy good morning feast with the one and only The Grinch. Prices start at $41.99 for adults ($26.99 for kids aged 3-9). The Grinch & Friends Character Breakfast includes the following:
Start your day at Circus McGurkus Cafe Stoo-pendous with the Grinch and his Who-ville friends
Enjoy a tasty breakfast buffet with themed food and breakfast favourites, too, including a non-alcoholic beverage and speciality treats
Get one digital download photo from one character interaction
Universal's Holiday Tour
Universal's Holiday Tour is brand new this year. Priced from $79.99 (plus tax) participants will get the following:
Exclusive meet and greet with The Grinch and his faithful dog Max
Reserved seating for the Grinchmas Who-liday Spectacular
Small plates including cookies, Who Hash, Chicken & Waffles, Popcorn Shrimp, plus non-alcoholic beverages and a hot cocoa bar at Circus McGurkus Cafe Stoo-pendous
A Santa meeting including one (1) My Universal Photos digital download per party
Priority access to one (1) attraction (subject to Tour itinerary)
An after-hours showing of The Magic of Christmas at Hogwarts Castle
There will be a maximum of 12 people per tour group so you may be on a tour with other groups. A 2-park 1-day ticket is required but not included. If you have a Universal Orlando UK ticket you will be fine.
Both experiences can be booked using the following link: Universal Holidays Experiences
Exclusive Coca-Cola Secret Menu
If you are visiting Universal Orlando in November you will have the opportunity to try secret Coca Cola recipes through participating restaurants and Coca Cola Freestyle vending machines.
In participating restaurants look out for the secret menu which details flavours and instructions on how to order your beverage. For the select Freestyle machines look for the vault icon on the bottom right of the touchscreen homepage to access the secret menu. The Universal Orlando app will have instructions on a secret code you will need to draw to access the menu of select drinks available.
The available flavours are:
Autumn Spice Cooler at Hot Dog Hall of Fame in Universal CityWalk  – Coca-Cola Original combined with cinnamon and tart cherry syrup.
Pizza's BFF at Louis Restaurant Gelato Window in Universal Studios Florida – Limited-edition Coca-Cola Dreamworld float with vanilla ice cream and a layer of bright dragon fruit syrup.
Krakatoa Fruit Kooler at Whakawaiwai Eats in Volcano Bay – Fanta Orange blended with pineapple chipotle syrup and basil.
Sparkler Spritz at Café 4 in Islands of Adventure – Sprite, lemon juice, hibiscus, dragon fruit, and tart cherry syrup, topped with whipped cream and blue raspberry Pop Rocks.
Seaworld News October 2022
Seaworld Announces Details Of 2023 Roller Coaster
Riders will "feel the power of the ocean" from next year when Seaworld's 7th roller coaster will open.
The Pipeline roller coaster will be a world-first roller coaster from coaster giants Bollinger & Mallibard. Marketed as the world's first Surf Coaster, Pipeline will be the first stand-up coaster B&M have installed in quite a while. It will utilise a brand new restraint system B&M has been working on for a number of years as well as a uniquely surfboard shaped ride car. The vital statistics of Pipeline are:
110 Feet Tall
2,950 Feet Of Track
Maximum Speed Of 60mph
Ride Duration Of 1 Minute 50 Seconds
5 Different Airtime Moments
2 Inversions According To Concept Artwork Including Innovative "Wave-Curl" Inversion
Projected Minimum Rider Height Of 54″
Check out a preview video of the attraction released by Seaworld I have embedded below.
Busch Gardens News October 2022
Serengeti Flyer To Open In Spring 2023
Busch Gardens Tampa will debut the world's largest "screaming swing" attraction dubbed the Serengeti Flyer in Spring 2023.
A "screaming swing" attraction is a seated pneumatically powered pendulum-type ride with 2 rows of riders facing back to back. Serengeti Flyer will have two rows of 10 people and there are two gondolas making for 40 passengers per cycle.
Standing 105 feet tall the gondolas swing progressively faster and higher until reaching a maximum speed of 68mph and a height of 135 feet. There will be a minimum rider height of 48″ to ride the attraction.
Developed by S&S Technologies in 2004, Thorpe Park in Surrey debuted what was then the world's tallest Screaming Swing attraction named Rush in 2005 which is still operating today.
Orlando Area News October 2022
Orlando Freefall Tower To Be Torn Down
Following a fatal incident involving 14-year-old Tyre Sampson in March 2022 who fell to his death, the owners and operators of the world's tallest freefall tower, the Orlando Freefall Tower at ICON Park have decided to demolish the ride.
The 400-foot-tall attraction has stood dormant since the incident pending an accident review which is still ongoing. As well as demolishing the ride, the Orlando Slingshot Group will set up a scholarship in Tyre's name at his school after further consultation with his family.
"We are devastated by Tyre's death. We have listened to the wishes of Tyre's family and the community, and have made the decision to take down the FreeFall"

Ritchie Armstrong, Orlando Slingshot Group
A timeline for the demolition has not been set. The world's tallest slingshot ride adjacent to the freefall tower is expected to reopen although no announcement or dates have been set. Orlando Slingshot Group also operates the Star Flyer attraction on the opposite side of ICON Park.
That's it for another month. I have been working on a tool to help you decide which attractions you would like to do on your holiday. Next month I hope to at least share some details or have it live for you to try but there is still some fine-tuning before it is ready.
Until Next month!